News & Events 2021
Archive: 2016 | 2017 | 2018 | 2019 | 2020 | 2021 | 2022 | 2023
MICK BEANE - 31/12/2021
RIP Mick Beane UPDATE
It's with sadness that we have to announce the death of Mick Beane, who passed away couple of weeks ago. He was another stalwart of the aunt Sally game that we have lost.
Mick Beane played Aunt Sally for many years and has an impressive list of winning trophies with The Cross Keys,The Fishes, Black Swan, The George, and finally at the Seacourt Bridge.
Mick played in three singles finals winning one and runner up in the other two. In 1963 he lost to John Goodenough from the Bakers and lost again to Den Sellar from the Black Swan 1982. Mick finally got his name on the trophy in 1985 beating John Pagano from the Royal Green Jackets.
Mick was top doll scorer in 1980 with 244 and 1981 with 238.
He became one of the few players to hit 18 when playing for The Fishes.
In 1967 Mick was in the Cross Keys team that beat The Fox 2-0 in the Halls Cup (Eight a side) as well as other future successes.
Mick partnered Philip Adams in 1993 & 1997 to win the Pairs and was in many finals of the fours competitions.
---
PETE COATES - 31/12/2021
Pete Coates RIP
It is once again we have to report another death in the Aunt Sally world.
Sadly Pete Coates passed away on 1st Jan. Pete last played for The Three Pigeons.
---
ALAN HOLT - 29/12/2021
Alan Holt RIP
Sorry for the late news, but we have to report another loss to Aunt Sally, Alan Holt who passed away 1st November. Alan was well known in the Kidlington circuit playing for a few teams in the area and finishing at The Black Prince
With son Paul they won the Parent & Child competition in 2006 & 2009 and were runners up in 2007.
---
2022 SEASON UPDATE - 21/10/2021
2022 SEASON UPDATE
With many indoor leagues starting up for the winter its good news that the desire to play Aunt Sally has not diminished during the past 18 months. We are planning to run the 2022 season as normal, starting in April with competitions to follow, and the AGM will take place on Monday 17th January 2022 at The Gladiators Club. More details to follow closer to the time.

We will not be charging any entrance fees for teams apart from those that had their fees refunded. Entrance forms will still need to be completed and returned. Can teams and players that still hold trophies, and there are quite a few, please return them to Andy Beal asap.

---
MAURICE BAKER - 27/08/2021
RIP Maurice Baker
It is with great sadness that we have to report the death of one of Oxfords top players Maurice Baker on Thursday 19th August.
Maurice played for many many years in the Oxford & Abingdon leagues, (one of the few players to win both the Abingdon & Oxford League singles) but it was in the Oxford league that he excelled the most. His list of winnings are endless starting off with the first of his two singles appearances in 1958 when playing for the Elm Tree he defeated another legend Monty Greenaway from Cowley Workers. Maurice was beaten in his second final in 1966 by J.Cruikshanks.
He was top doll scorer five times in 1977 (237 dolls) , 1982 (233), 1984 (230) & 1994 (231). Maurice also hit the most sixes in 1994 with ten.
With son Kevin in the Parent & Child competition, they won every final they got to, 1986, 1987, 1989, 1991 & 2003,
Maurice won the pairs in 1973 & 1982 with Ray Clarke.
He won the Premier title on numerous occasions as well as the eight and fours a side cups. He also bagged himself a couple of winner's trophies in the TV Cup.
Maurice's most treasured achievements was as anchor man clanging off a six to give the Cricketers a record leg score of 41 and being in the same side that averaged over a hundred dolls a game finishing the season with 1801 dolls. Both achievements I believe will never be beaten.
Maurice also served on the committee as an officer and committee member.
With that array of trophies and commitment to Aunt Sally he will be sadly missed.

The funeral will take place on Wednesday 15th September at the Oxford Crematorium 2.00pm.

---
AUGUST UPDATE - 03/08/2021
AUGUST UPDATE 2021 SEASON
It is with great regret that the 2021 season has been abandoned. We were hoping to run some sort of season, however with the late lifting of restrictions and not all pubs ready for their gardens to be taken over by people throwing sticks about, it has not been possible to organise anything. It is a shame and we can only hope that next year we can start afresh with more players and teams. The AGM has been provisionally booked for Monday 17th January 2022 at the Gladiators Club.
Can all teams and players that still have trophies please return them to Andy Beal asap please.

---
JUNE UPDATE - 08/06/2021
JUNE UPDATE
LATEST UPDATE
It is looking less likely that we will be able to run even half a season this year. We think the best we can do is run some competitions, Singles, Pairs, Fours, once it is safe to do so. We will endeavor to get some Aunt Sally played this year.

TROPHIES
Those still holding trophies from 2019 Season, individual and team cups can you please return them to Andy Beal as soon as you can.
---
AGM 1958 - 11/05/2021
AGM notes 1958
The notes from the AGM held on February 5th 1958. Started 7.30pm, closed 10.30pm. Fourteen members put themselves forward to be on the committee. A ballot had to be held. A new rule was agreed about the size of sticks and the doll.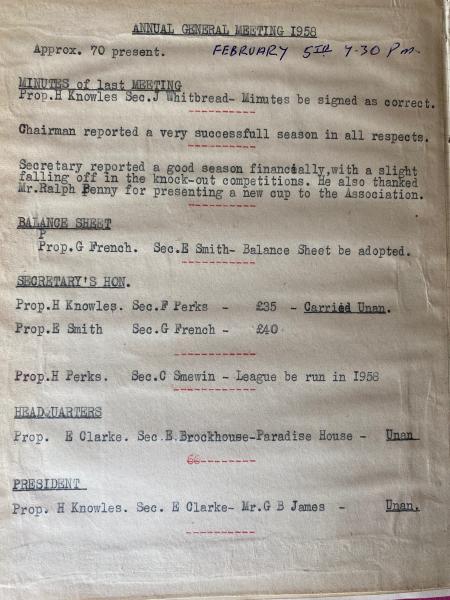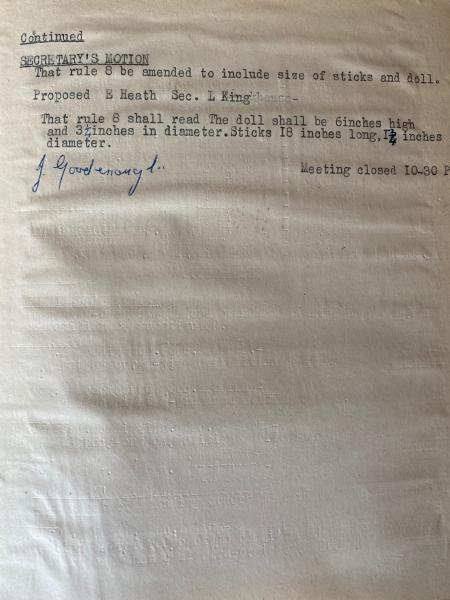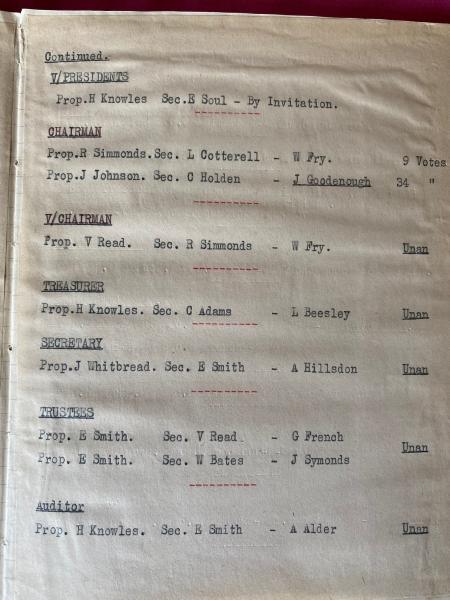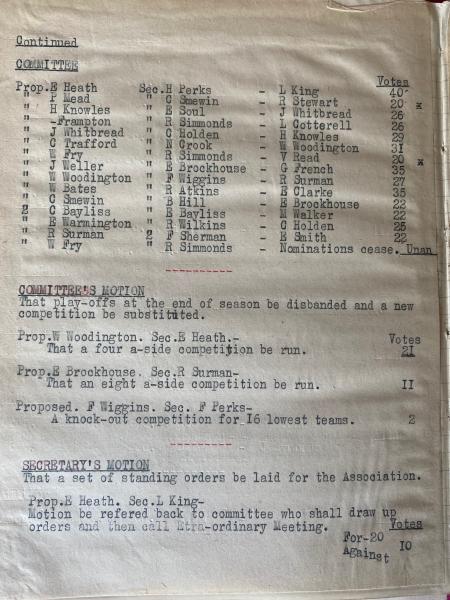 ---
2021 UPDATE UPDATED! - 10/05/2021
2021 UPDATE UPDATED!
Hi, Not a lot has changed since our last update. Once pubs have opened up inside and we see how this continues we will have a clearer picture on how we can proceed. We want to be able to organise some sort of Aunt Sally this season but we will be guided on how everything pans out and feedback from teams and players. We think it will be late July at the earliest that any sort of Aunt Sally can proceed. In reality it looks like it will be competitions rather than a half season league.
The entrance fees that was collected at the start of last year has all been banked and safe. When we can start a full season this will be used for entrance fees at no extra cost for teams.

---
2021 Season UPDATE - 13/04/2021
2021 Season UPDATE
With the opening of pubs with gardens, it is still too early to make any decision about this year's Aunt Sally season. It is not just the case of 'pubs are open get the Aunt Sally season going' there is a lot of planning that goes into arranging the season, which can take many weeks. Many pubs with gardens have stated they will not be opening until next month and we don't know if government guidelines will change. It's still not sorted if only those that have been vaccinated will be allowed inside or you have to book in advance to enter a pub. We are as much in the dark as everyone else.
We are monitoring the situation weekly and will give updates as the situation changes. What we do want is to have some sort of Aunt Sally this season if possible and we will do our best to make sure this happens. I expect that everyone is itching to play Aunt Sally however we will be guided by government restrictions and landlord's rules.

---
2021 Season - 23/02/2021
2021 Season possible?
With the good news that pubs will be able to start opening outdoors from 12th April and indoors from 17th May it is too early to say if this seasons Aunt Sally season will go ahead. It gives us a baseline to start planning but I think it's safe to say it will not be a full season. We will wait and see how everything proceeds and will give updates when we can. Hopefully we can get a nine week season in.
---