News & Events 2018
Inter League - 13/04/2018
Oxford League are the Inter League winners. Full report in the reports section.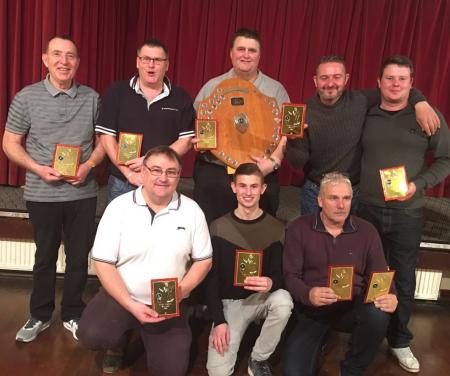 ---
FIXTURE SHEET & RULES NOW AVAILABLE TO DOWNLOAD - 04/04/2018
FIXTURE SHEET & RULES NOW AVAILABLE TO DOWNLOAD
Please study fixtures early as teams numbered 7,8,9,10 will have teams at home on the same night during the season.
Fixture sheets, rules, result cards and competition forms will be ready to collect from The Gladiators Club on Monday 16th April 8.00pm.
Finals night. Friday 12th October at Cowley Workers Club.
---
TEAMS REGISTERED - 25/03/2018
TEAMS REGISTERED SO FAR Grading meeting Tuesday 3rd April.
These are the teams that are registered for the 2018 season.
If your team is not on here please contact Andy Beal ASAP
We have three spaces still available.
Ampleforth Arms A
Ampleforth Arms B
Black Horse 'A'
Black Horse B
Black Prince
Bletchingdon Sports Club
Bullnose Morris A
Bullnose Morris B
Catherine Wheel A
Catherine Wheel B
Chequers A
Chequers B
Chequers C
Cowley Workers
Cricketers Arms Cowley
Cricketers Arms Littleworth
Democrats Club A
Democrats Club B
Donington Club C
Donnington Club A
Donnington Club B
Duke Of Monmouth
Florence Park A
Florence Park B
Garsington Sports A
Garsington Sports B
Gladiators A
Gladiators B
Gladiators C
Gladiators D
Golden Ball A
Golden Ball B
Green Road Club A
Headington Con club
Kidlington F.C
Littlemore B.L. 'A'
Littlemore B.L. 'B'
Marston B.L. 'A'
Marston B.L. 'B'
Masons Arms A
Masons Arms B
New Club
North Oxford Con
Northway Club B
Northway Club C
Original Swan
POW
Queens Head A
Queens Head B
Red Lion Cassington
Red Lion A Marston
Red Lion B Marston
Red Lion A Yarnton
Red Lion B Yarnton
Rose Hill
Seacourt Bridge
Six Bells A Kidlington
Six Bells B Kidlington
Six Bells D Kidlington
Six Bells E Kidlington
Swan A
Swan B
Swan C
The Blackbird
The George A
The George B
The Tandem
The Woodman
Three Pigeons
Tiddington Cricket Club
Vikings Sports A
Vikings Sports B
Vikings Sports C
Vikings Sports D
White Hart A Wolvercote
White Hart B Wolvercote
White Hart Wytham

---
New Season UPDATE - 17/03/2018
ENTRANCE CLOSED
Entry to the league has now closed. We will accept a few more entrants as they come in however this WILL BE ON A FIRST COME basis. Once we have enough all other forms will go on the reserve list.
Season to start April 25th.
---