News & Events 2021
Archive: 2016 | 2017 | 2018 | 2019 | 2020 | 2021
JUNE UPDATE - 08/06/2021
JUNE UPDATE
LATEST UPDATE
It is looking less likely that we will be able to run even half a season this year. We think the best we can do is run some competitions, Singles, Pairs, Fours, once it is safe to do so. We will endeavor to get some Aunt Sally played this year.

TROPHIES
Those still holding trophies from 2019 Season, individual and team cups can you please return them to Andy Beal as soon as you can.
---
AGM 1958 - 11/05/2021
AGM notes 1958
The notes from the AGM held on February 5th 1958. Started 7.30pm, closed 10.30pm. Fourteen members put themselves forward to be on the committee. A ballot had to be held. A new rule was agreed about the size of sticks and the doll.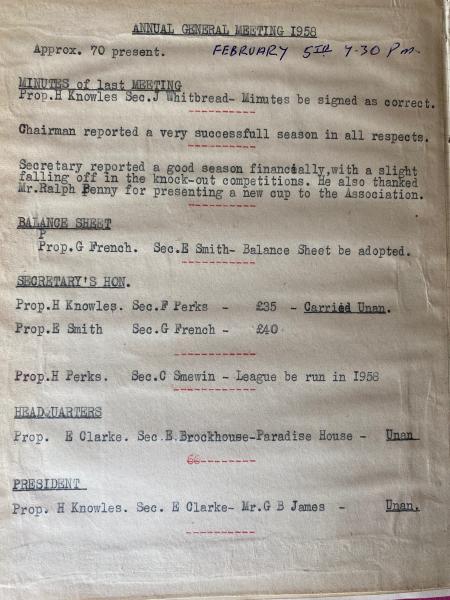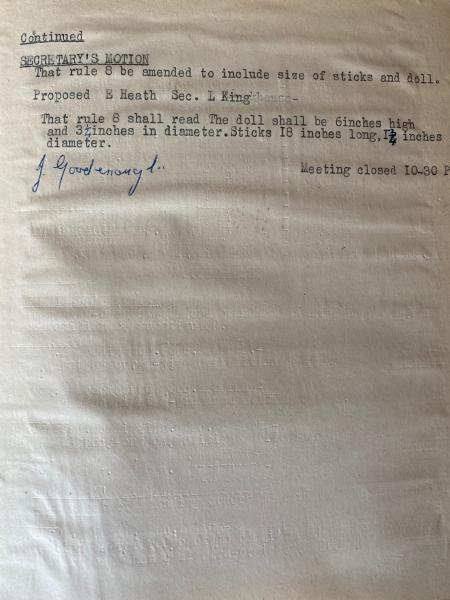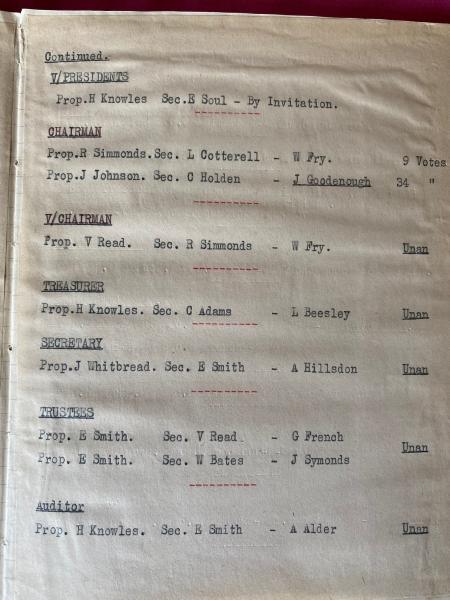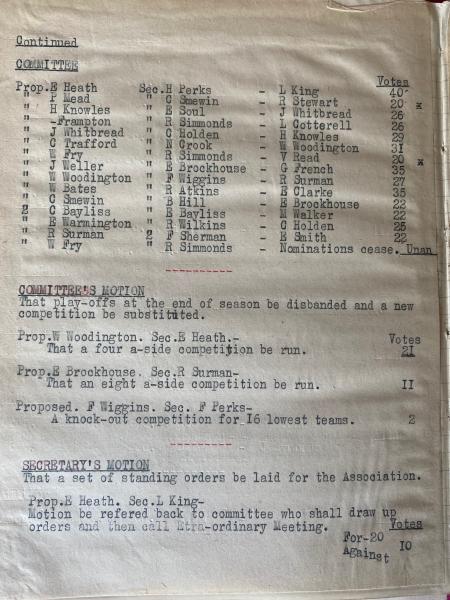 ---
2021 UPDATE UPDATED! - 10/05/2021
2021 UPDATE UPDATED!
Hi, Not a lot has changed since our last update. Once pubs have opened up inside and we see how this continues we will have a clearer picture on how we can proceed. We want to be able to organise some sort of Aunt Sally this season but we will be guided on how everything pans out and feedback from teams and players. We think it will be late July at the earliest that any sort of Aunt Sally can proceed. In reality it looks like it will be competitions rather than a half season league.
The entrance fees that was collected at the start of last year has all been banked and safe. When we can start a full season this will be used for entrance fees at no extra cost for teams.

---
2021 Season UPDATE - 13/04/2021
2021 Season UPDATE
With the opening of pubs with gardens, it is still too early to make any decision about this year's Aunt Sally season. It is not just the case of 'pubs are open get the Aunt Sally season going' there is a lot of planning that goes into arranging the season, which can take many weeks. Many pubs with gardens have stated they will not be opening until next month and we don't know if government guidelines will change. It's still not sorted if only those that have been vaccinated will be allowed inside or you have to book in advance to enter a pub. We are as much in the dark as everyone else.
We are monitoring the situation weekly and will give updates as the situation changes. What we do want is to have some sort of Aunt Sally this season if possible and we will do our best to make sure this happens. I expect that everyone is itching to play Aunt Sally however we will be guided by government restrictions and landlord's rules.

---
2021 Season - 23/02/2021
2021 Season possible?
With the good news that pubs will be able to start opening outdoors from 12th April and indoors from 17th May it is too early to say if this seasons Aunt Sally season will go ahead. It gives us a baseline to start planning but I think it's safe to say it will not be a full season. We will wait and see how everything proceeds and will give updates when we can. Hopefully we can get a nine week season in.
---