News & Events 2019
Archive: 2016 | 2017 | 2018 | 2019
Littlemore British Legion looking for players - 18/04/2019
Littlemore British Legion 'B' are looking for players
Littlemore British Legion 'B' are looking for players.
Please contact Peter Dunhill on 07776432767
---
Aunt Sally Packs - 12/04/2019
Aunt Sally packs ready to be picked up
The Aunt Sally packs which include, fixture sheet, rules, result cards, competition forms etc will be ready to be picked up from The Gladiators Club on Monday 15th April 7.30pm- 9.30pm.
---
NEW FIXTURE SHEET UPDATE PLEASE READ - 11/04/2019
NEW FIXTURE SHEET UPDATED, OUT SOON PLEASE READ UGENTLY
Due to The Three Pigeons pulling out of the league at a late stage, the committee had a emergency meeting and decided to move one team up in each section to plug the gap and invite one of the reserve teams on the list to enter the league in Section 7.
The new fixture sheet has been agreed and will be on the website from 5.00pm Thursday 11th April. We have moved one team up from each section according to a number of factors and have changed some team numbers to accommodate this. Please study the fixtures early as many have changed.
If the Three Pigeons had not entered the league in the first place the fixture sheet would have been as it is now.
---
Oxford retain the Shield - 05/04/2019
Oxford retain the Inter League Shield
The Oxford & District Aunt Sally representative team retained the Inter League Shield at Banbury's Food Club last night, what turned out to be a very long night. They beat Yarnton and Kidlington on the way to the final and Wychwood league in a repeat of last years final. Full report in the reports section.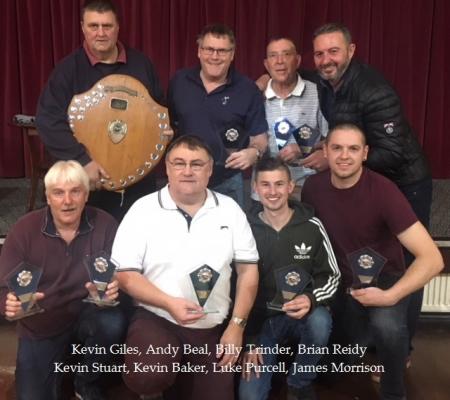 ---
Vikings Sports Club looking for players - 03/04/2019
Vikings Sports Club
Vikings Sports Club 'B' team in Headington are looking for a few extra players. Please ring Keith Henley on 07551 159277 if interested.

---
League Fixtures - 02/04/2019
Fixture Sheet 2019
The interim fixture sheet will be on the website from 5.30pm Wednesday 3rd April.
Please make sure you study the fixtures and rules early. There will some clashes where pubs that have more than one team will be playing at home on the same night. Rearrange these fixtures asap.
---
INTER LEAGUE SHIELD COMPETITION - 02/04/2019
INTER LEAGUE SHIELD COMPETITION AT G.F CLUB BANBURY THURSDAY 4TH APRIL 7.30PM START
OXFORD TEAM (Holders)
ANDY BEAL
KEVIN GILES
KEVIN BAKER
KEVIN STUART
BILLY TRINDER
JAMES MORRISON
LUKE PURCELL
BRIAN REIDY
---
ENTRANCE NOW CLOSED - 19/03/2019
Full list of teams that have been accepted.
Ampleforth Arms 'A'
Ampleforth Arms 'B'
Black Prince
Bletchington Sports Club
Bullnose Morris 'A'
Bullnose Morris 'B'
Catherine Wheel 'A'
Catherine Wheel 'B'
Chequers 'A'
Chequers 'B'
Cowley Workers Club
Cricketers Cowley
Crickters Arms Littleworth
Democrats Club
Donnington Club 'A'
Donnington Club 'B'
Donnington Club 'C'
Duke Of Monmouth
East Oxford Con Club
Garsington Sports Club
George 'A'
George 'B'
Gladiators 'A'
Gladiators 'B'
Gladiators 'C'
Golden Ball
Green Road Club 'A'
Green Road Club 'B'
Kidlington F.C. 'A'
Kidlington F.C. 'B'
Littelmore B.L. 'A'
Littlemore B.L. 'B'
Marston B.L. 'A'
Marston B.L. 'B'
Masons Arms 'A'
Masons Arms 'B'
New Club 'A'
New Club 'B'
Northway Club 'B'
Northway Club 'C'
Prince Of Wales
Queens Head
Red Lion 'A' Kidlington
Red Lion 'A' Marston
Red Lion 'A' Yarnton
Red Lion 'B' Kidlington
Red Lion 'B' Marston
Red Lion 'B' Yarnton
Red Lion Cassington
Rose Hill Club
Seacourt Bridge
Six Bells 'A'
Six Bells 'B'
Six Bells 'D'
Six Bells 'E'
Swan 'A'
Swan 'B'
Swan 'C'
The Blackbird
The Tandem
The Woodman
Three Pigeons
Tiddington Cricket Club
Vikings Sports 'A'
Vikings Sports 'B'
Vikings Sports 'C'
Vikings Sports 'D'
White Hart Wolvercote
White Hart Wytham
Yarnton B.L.
RESERVE LIST
Headington Con Club
Florence Park Club 'B'

---
NEW SEASON UPDATES - 10/03/2019
CLOSING DATE SATURDAY 16TH MARCH. 8 PLACES LEFT
UPDATE
We have eight places left. First eight forms received will be entered, anymore after that will go on the reserve list.

The closing date for all entrance forms is Saturday 16th March. If we have an equal enough teams in each section then NO LATE ENTRIES WILL BE ACCEPTED.
Make sure your form is in by Saturday 16th.


Do you need a new back drop for your Aunt Sally throw?
Darren Millward from
JDP Ltd can provide any size, colour you require and with your logo/team or pub name printed on. Price includes eyelets and delivery.
Please contact
Creative Solutions for Large Format,
Digital & Litho
4 Station Field Industrial Estate, Kidlington, Oxford OX5 1JD
Tel: 01865 372982
---
Charity Aunt Sally - 10/03/2019
Charity Aunt Sally Competition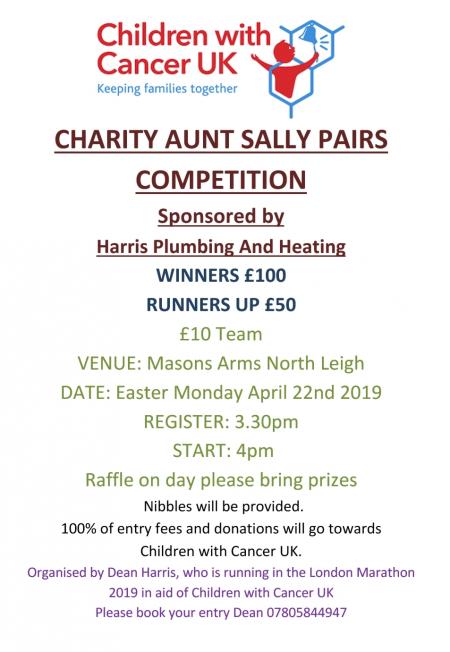 ---
ANNUAL GENERAL MEETING - 15/01/2019
ANNUAL GENERAL MEETING and start of season.
The Annual General Meeting was well attended (not)with 12 people. So all the moaning and groaning during the season meant nothing as here was your chance to put your points across.
Entrance forms are now available to download from the link on the front page. League to start on Wednesday April 24th with finals night at Cowley Workers on Friday October 11th.
---