Week 4 Report
STUART & SONS OXFORD & DISTRICT AUNT SALLY 2022
REPORT WEEK 4
The weather has always played a major part in Aunt Sally and this week it showed. For those that did play outside scores had waned, with only one player getting into the top scorer's column and that player was Andy Lewis from the New Club who defied all the odds and hit 16 dolls 6-6-4 at home to The Gladiators 'A'.
He hit two sixes with his first two throws and was on course for that rare 18, however Lewis missed with his first stick of his last throw but still went on to clang off four dolls to guide the New club to a 30-23 win in the first leg. Gladiators came back well to win the next two legs 24-18, 21-17.
Donnington Club 'C' got their first win under their belt when they defeated a depleted George 'A' side 3-0. They won all three legs 18-11, 10-7, 16-13.
Another Andy Lewis, this time from The Ampleforth Arms 'A' (who coincidently also hit sixteen dolls 6-6-4 for The Red Lion Marston in week 4 in 2016) bagged himself a six but it was all in vain as they lost out 3-0 to visitors Cowley Workers 'B' 17-10, 22-18, 20-19.
Garsington Sports are still seeking the taste of victory after they lost out 3-0 at home to North Leigh FC in a tight game. North Leigh won the first two legs by the tightest of margins 15-14, 18-17 and then completed the whitewash in the final leg 20-13.
Moving to an indoor alley Premier pacesetters The Black Prince overcome a determined Swan 'A team who narrowly missed out on inflicting the Prince's first loss. Opening leg Prince set and won 31-25, with the Swan hitting back to level in the next leg 30-28. Final and deciding leg Swan could only muster up a set of 21, however in reply the Prince just sneaked past it with 23.

Section 2 leaders The Chequers 'B' tasted their first defeat of the season when The Gladiators 'B' came from behind to win 2-1. The Glad's set 19 in the first leg and in response The Chequers left anchor man Harry Jenkins four to win, and he did not disappoint clanging off the winning doll with his last stick. However that was to be their only success as Glads' hit back to win the next two legs 21-18, 19-16. Suresh Patel threw well for the Glad's with eleven dolls (3-5-3).
Steve Walton hit a six in his dozen dolls (2-6-4) for Donnington club 'A' but it could not prevent them from falling to a maximum loss to the Six Bells 'D' who won all three legs 23-10, 14-14, 22-18.
Mick Holton's night started off disastrously as he failed to trouble the doll with a blob in the opening leg for the Vikings 'A' in their 2-1 defeat at home to Six Bells 'A'. However he improved as the night went on hitting a 3 & 6 in his next two throws, but it could not stop the Bells running out winners 22-16,17-14, 11-24.
Richard Wyness hit a steady dozen dolls (4-4-4) for Seacourt Bridge as they came away with a 2-1 victory at Red Lion 'A' Yarnton. The Lion won the opening leg on three sticks after it was tied 16-16 with Seacourt coming back well to win the next two legs 19-16, 20-14.

In Section 3 Donnington Club 'B' smelt success for the first time this season when they came away from The George 'B' with a 2-1 win. George won the first leg 19-12 but Donnington hit straight back to win the next two legs quite comfortably 19-15, 23-17. Kevin Flynn had a mixed night for Donnington, starting off with a blob then a 3 & 6. Paul Sims top scored with 11 dolls (3-4-4).
Only one doll separated hosts Vikings 'B' and Cricketers Littleworth, 30-29, however Vikings claimed the victory 2-1 in the leg scores of 14-9, 8-13, 8-7.

In Section 4 The Six Bells 'C' Kidlington Nick Edmonds was in fine form bagging himself a maximum 6 in his eleven doll haul (2-3-6) as they overcame Six Bells Quarry 2-1, leg scores being 13-10, 12-13, 17-10.
Kidlington FC got off to a dreadful start at home to Masons Arms when chasing a set of 11 they could only reply with 7. However they redeemed themselves in the next leg 14-9. Final and deciding leg Masons set 15 and in the chase Kidlingtons anchor man Daryl Connelly clanged off four dolls needed to tie the leg and take it to three sticks, which the Club men won 3-2.
Red Lion 'B' Yarnton won the opening leg at Duke of Monmouth on three sticks after it was tied 11-11. That seemed to knock the stuffing out of The Duke as they crashed to defeat in the next two legs 19-7, 18-9.

It was a high scoring game in Section 5 between Cricketers Cowley and White Horse with the former winning the first leg 16-14. Cricketers threw well to win the next leg 17-14 and then after being set 12 in the final leg they flew past that with two players spare to end up with 14. Chris Cox for the White horse top scored with 10 dolls 3-5-2.
SIXERS: A.Lewis, 2 (New Club) S.Walton (Donnington Club 'A') K.Flynn (Donnington Club 'B') N.Edmonds (Six Bells 'C') A.Lewis (Ampleforth Arms 'A') M.Holton (Vikings 'A')

BLOBBERS: A.Hogg (Donnington Club 'B' ) B.Smith, M.Stimpson (Golden Ball) S.Wormaid (Cricketers Cowley J.Whittingham (Duke Of Monmouth)

TOP DOLL SCORERS:
16: A.Lewis (New Club)

PREMIER / SECTION ONE TEAMS TAKE NOTE
Cowley Workers 'B' have moved from Cowley Workers and will now play all their home games at The Blackbird. Name change as well to The Blackbird 'B' . They may get in touch to change around a fixture.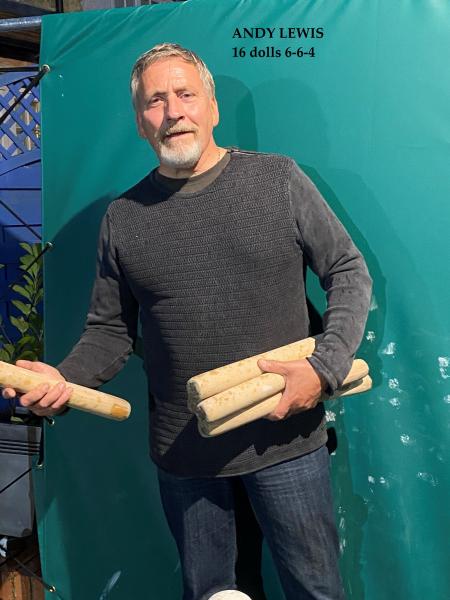 Back to reports page