Week 1 Report
STUART & SONS OXFORD & DISTRICT AUNT SALLY 2022
REPORT WEEK 1

The Aunt Sally season returned with a bang after a two year absence and on a chilly night Premier favourites The Black Prince grabbed maximum points at home to North Leigh Football club. Prince set and won the opening leg with an impressive 30, North Leigh replying with 22. Leigh then set the next leg but struggled and could only muster up a score of seventeen, which was never going to be enough as Prince sailed past it with 23. Prince took maximum points in the final leg 26-19. Dick Walsh for the Prince was in exceptional form clanging off 15 dolls including a six (5-6-4) and was well supported by team mate Rob Bradford who hit a baker's dozen (5-3-5).
The local derby between New Club Wheatley and Garsington Sports didn't quite live up to expectations as New Club comfortably won the first two legs 21-16, 18-15. The Sports men rallied in the final leg to grab a point 20-17.
Newcomers to the top flight Donnington Club 'C' and Cowley Workers 'B' fought out a close fought game, both teams hitting 54 dolls with Workers coming out on top 2-1. The opening leg went to the home side Donnington 20-17, with Cowley Workers levelling in the next leg 19-17. The final and deciding leg Workers set 18 helped by a maximum six from Kevin McMahon. After a steady start in reply Donnington fell just short by one doll hitting 17 in reply to give the Workers their first victory in the top flight. Kevin McMahon top scored with a dozen dolls (4-2-6).
Premier Champions The Swan 'A' with a much changed team began their defence with a 3-0 win over a depleted Gladiators 'A' team. They won all three legs 26-18, 28-23, 24-22. Martin Cook top scored for the Glad's with thirteen dolls (3-5-5).
Ampleforth Arms 'A' struggled at home to The George 'A' losing all three legs 17-15, 24-10, 15-13.

In Section 2, Jez Thompson from the Red Lion 'A' Yarnton was another six hitter as he led his team to a straightforward 3-0 win at home to Six Bells 'D' 18-13, 21-16, 21-17.
Vikings Sports club 'A' scored more dolls than their visitors Chequers 'A' (47-43) but still lost out 2-1. Chequers took an early lead in the first leg 20-17 with Vikings striking straight back in the next leg 17-10 to level. Third and final leg Chequers set 16 which was beatable, however after a slow reply Vikings never recovered and fell three dolls short with 13.
Two good strong legs from Seacourt Bridge saw them come away from Donnington Club 'A' with a 2-1 victory. Chasing a set of 15 in the opening leg Seacourt passed that with ease hitting 19. Second leg they were set on only 12, but somehow Seacourt failed to capitalise could only reply with a measly 10. Final leg Seacourt set and won 22-15.
Alan Surman with thirteen dolls (3-6-4) excelled to lead the Six Bells 'A' Kidlington to a maximum 3-0 win at The Gladiators' B'. The Glad's set the first two legs with 14 & 18, however it was not quite enough as Bells hit 18 & 20 in return to go 2 up. Final leg Bells set 15, and in return Glad's anchor man hit the four dolls needed to tie the leg and take it to a three stick shoot out, which the Bells won to take maximum points.
Chequers 'B' had an impressive 3-0 win at home to Queens Head. Winning the first legs 19-14, 20-16 they were set 20 in the final leg. In reply Chequers struggled and left their last two players needing eleven to win and they didn't disappoint as Ian Gillett whipped off five dolls and Harry Jenkins clanged off the four needed to sneak the leg by the odd doll with 21.

In Section 3 Yorkie Finney hit his best score for many years as he hit thirteen dolls (4-5-4) to lead The Blackbird to a 2-1 win at Red Lion Kidlington. They won the first two legs 22-18, 17-12 and had to rely on a three stick shoot out to take the final leg after it was tied 19-19. Paul Edwards threw well for the Lion with a dozen dolls (3-4-5).
Ampleforth Arms 'B' scored five more dolls than their hosts The George 'B' but somehow still managed to lose the game 2-1. The damage was done in the first two legs losing them 18-16, 12-11 before they rallied in the final leg 20-12.

In Section 4 Kidlington Football Club took maximum points at home to Bletchington Sports Club but the game was much closer than the score suggests. The opening leg was tied 9-9 with Kidlington winning it on three sticks. They then took a 2-0 advantage in the next leg 16-12. Final leg Bletch set 11 and Kidlington snatched the leg by the odd doll with a reply of 12.
Only one doll separated Duke of Monmouth and Rose Hill Social Club (30-31) and it was the hosts, The Duke, who came away victorious despite Rose Hill's lead of man Mark Faulkner hitting a dozen dolls (3-4-5). Duke won the first and third legs 11-10, 11-7 with Rose Hill snatching a point in the middle leg 14-8.

In Section 5 The Swan 'C' threw well above their average to beat The White Horse 3-0 who were two players short. The opening leg Swan won on three sticks after it was tied 16-16 and won the next two legs 15-11, 14-9.

SIXERS: D.Walsh (Black Prince) K.McMahon (Cowley Workers' B' ) A.Surman (Six Bells 'A' Kidlington) J.Thompson (Red Lion 'A' Yarnton)

TOP DOLL SCORERS: 15; D. Walsh (Black Prince)
13; R.Bradford (Black Prince) A.Surman (Six Bells 'A' Kidlington) Y.Finney (The Blackbird) M.Cook (Gladiators 'A')

To help with the reports etc please send in team pictures/ individual players and any story that goes with the games.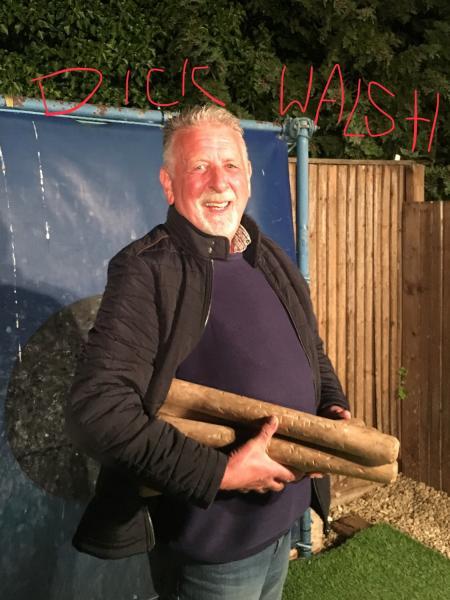 Back to reports page