Week 18 Report
REPORT WEEK 18
In one of the most exciting ends to a season, the Premier Section title was not decided until the penultimate
stick of the season. Going into the final games leaders The Swan 'A' led Black Prince by one point and knew as long as they matched the Black Prince score they would be crowned champions. Swan started off well away at The Woodman by winning the opening leg 25-19. Black Prince at home to The Six Bells 'E' Kidlington also won their opening leg 24-22. Drama in the second leg when The Swan lost 26-22 and The Black Prince won their second leg 24-17, which meant they were both even going into the final leg. Swan set 28 which was enough for them to win the leg and game as Woodman could only reply with 13. Black Prince had to win their final leg to force a playoff and decided to set. They started off well hitting twelve with their first four players but a mini collapse in the middle left them with a final total of 23. A slow reply from The Six Bells meant that their anchor man Fred Sawyer was left needing four to win and the outcome of the title. Sawyer went one better to whip off five dolls to win the leg and in doing so, broke The Black Prince dreams and gave The Swan their second Premier title win in three years.
Garsington Sports 'A' finished third after a 2-1 home win over The George 'A' but the real tension was for the League top doll scorer between The George team mates Luke Purcell and Kevin Stuart. Purcell led by one doll and made he made sure he was crowned top doll scorer by clanging off fourteen dolls (5-5-4) to end up with 206 dolls. Stuart threw well for his eleven dolls to give him a total of 202 dolls for the season. James Morrison chipped in with thirteen dolls (4-5-4) for The George in the leg scores of 22-24, 23-22, 26-20.
Gladiators 'A' ended up top dolls scorers but finished fourth after their 2-1 win at The Chequers 'C'. Jason Weller was in top form for The Glad's bagging himself a six in his fourteen doll haul (5-3-6.) Glad's set and won with an impressive 30 in the first leg to the Chequers 14 in reply. Chequers drew level in the next leg on three sticks after it was tied 26-26. Gladiators wrapping up victory in the final leg 27-18.
Jason Coates threw well for The Swan 'B' with a baker's dozen (4-5-4) as they finished the season off on a high beating The Three Pigeons 2-1 in the leg scores of 24-22, 29-22, 24-28. However that was a sideshow to the important matter of Premier top doll scorer between Pigeon team mates Paul Townsend and Neil Lyon. Townsend led by three dolls but he only hit a 2 & 3 in the opening two legs and with Lyon hitting a 3 & 4 meant Townsend's lead was cut down to one. He hit three in the final leg and Lyon going last knew he had to hit five to win. With the small matter of needing two win the leg as well Lyon held his nerve and whipped off the five dolls needed with the winning doll coming from his last stick. It was even more remarkable as Lyon had played one game less than Townsend.

Chris Webb clanged off thirteen dolls (4-6-3) to claim the Section 2 top doll scorer and in turn guided The Gladiators 'B' to a 2-1 win over Bullnose Morris 'A' in the leg scores of 21-17, 23-20, 15-17.
Red Lion 'A' Yarnton secured second spot when they came away from The Six Bells 'D' Kidlington with a 2-1 win. Henry Johnson hit his first six of the season for The Lion while Pete Rampton threw well for his thirteen dolls (3-5-5) for The Bells in the scores of 19-25, 21-19, 17-21.
Black Horse 'B' and Garsington Sports 'B' shared the first two legs 21-18, 12-19 and in the final leg Black Horse set 18. In reply Garsington left anchor man Roger Goodall needing all six to win and he did not disappoint whipping of all six for his third of the season and winning the leg by the smallest of margins with 19.

Ampleforth Arms 'A' are Section 3 champions after beating The Masons Arms 'A' 3-0. Knowing that two points would be enough they secured them in the first two legs 17-14, 16-12. The Amp completed the whitewash in the final leg 17-15.
Donnington Club 'C' ended up second despite winning all three legs at home to Queens Head 'A' 18-14, 19-18, 21-20.

The Swan 'C' won Section 5 by one point from Red Lion 'B' Yarnton but it could so easily have been a playoff. Red Lion won their game at home to Vikings Sports 'C' 3-0, 18-14, 17-14, 12-11 which meant The Swan had to win 3-0 at home to The Cricketers Arms Cowley. They raced to a 2-0 lead winning the legs 19-17, 16-13 and knowing a win in the last leg would make them champions they could only set 11. Cricketers matched that however The Swan claimed victory and the title in the final leg on three sticks.

The title chase in Section 6 went down to the wire and was only decided in the last leg. Leaders Vikings Sports 'D' crashed at home to Catherine Wheel 'B' 2-1 which meant Seacourt Bridge needed a 3-0 win at home to Prince Of Wales to snatch the title. They comfortably won the opening leg 15-9 and then went on to secure the maximum win they needed in the next two legs 21-20, 20-15.

In Section 7 three teams were fighting it out for the title. Tandem lead from The Chequers 'B' by two points and Bletchingdon Sports by three. Knowing just two points would be enough The Tandem beat Golden Ball 2-1 in the scores of 19-14, 15-7, 13-14 which dashed the hopes of the chasing pack.

SIXERS : J.Weller (Gladiators 'A') C.Proudfoot, A.Shepherd (Garsington Sports 'A') R.Goodall (Garsington Sports 'A') C.Webb (Gladiators 'B')
P.Austin (Black Prince)

BLOBBERS: M.Lyons (Masons Arms 'B') B.Timbs (Democrats Club 'A') E.Mazey (Democrats Club 'B')

TOP DOLL SCORERS:
14: J.Weller (Gladiators 'A') Lu. Purcell (George 'A')
13: J.Coates (Swan 'B') J.Morrison (George 'A') C.Webb (Gladiators 'B') P.Austin (Black Prince)


Can all teams/players still holding cups please return them ASAP.
Finals night is on Friday 12th October at Cowley Workers Club.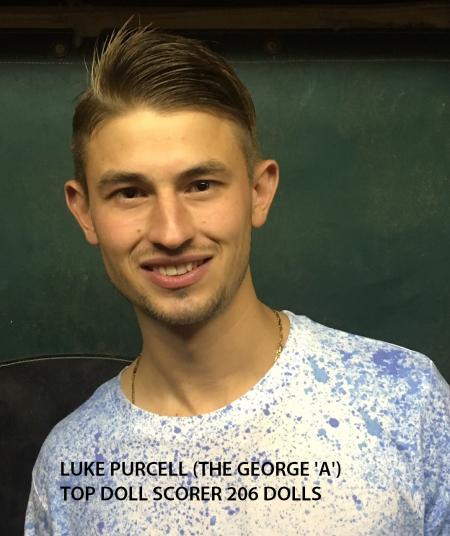 Back to reports page