Inter League Report
Oxford win the Inter League Shield. Oxford team Billy Trinder, Andy Beal, Kevin Giles, Brian Reidy, Chris Webb, Kevin Baker, Luke Purcell, Kevin Stuart. Played at Banbury on Thursday 5th April.Oxford were drawn against Kidlington in the 1st round, and lost the opening leg 26-19. Oxford then set 25 in the second leg and in reply Kidlington left anchor man Fred Sawyer needing all six to tie. He gave it a good go but fell one short with 5. Final leg Kidlington set 20 which Oxford passed with ease with two players spare.
In the Semi-Final Oxford were up against a strong Bicester side who set the opening leg with 24. Oxford replied with 25 to go one up. Oxford set the second leg with 26 but Bicester went past that with 27 to set up and exciting final leg. Oxford banged in a set of 27 which was too strong for Bicester with their anchor man not left a shot. Andy beal threw well with 5-5-5 and was well supported by Kevin Giles 3-4-6 and Chris Webb 4-4-5.
The final was between Oxford & Wychwood who had beaten a strong Chipping Norton team earlier. Wychwood set the opening leg but could only muster up a set of 20, which Oxford passed with ease. Oxford then set the next leg with a massive 29, Kevin Baker & Chris Webb both hitting a six apiece and was enough to see off Wychwood and to be crowned Inter League winners.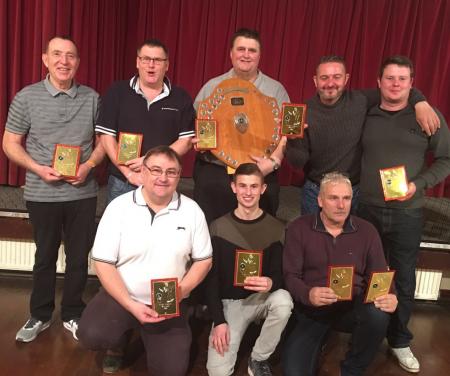 Back to reports page