29th April games report
Roger Goodall just missed out on the magical maximum 18 as he clanged off 17 dolls for Six Bells 'C' Kidlington in their 3-0 win at Kidlington Sports Club in the Premier Section. Goodall casually whipped of the first 14 dolls but missed with his 15th stick by a whisker, just coming underneath with the doll falling off before hitting the doll with his next 3 sticks. He was well supported by team mates Andy Beal & Pete Rampton with 13 dolls apiece as they won all three legs 29-18, 30-17, 33-18.
Premier holders The Cricketers started off well with a 3-0 win at The Three Pigeons.
Cricketers took the first two legs 33-25, 35-30 and was set 28 in the final leg. Anchor man Den Sellar knocked off the four dolls needed to seal the leg and top score with 15 dolls, 5-6-4.Pip Goulding and Philip Adams chipped in with 14 dolls each whilst The Pigeons Dave Townsend hit a six in his dozen dolls.

In Section 3 Richard Wheeler from The Cross Keys 'A' was another double sixer as he hit 15 dolls 3-6-6 in the 3-0 win at home over Quarry Gate. Malcolm Dick also hit a six in his dozen dolls as they comfortably won all three legs 25-18, 25-16, 28-14.
Terry Stuart rolled back the years as he hit a steady 12 dolls 5-4-3 to help the Red Lion Marston beat Red Lion Eynsham 3-0. They won all three legs 22-17, 19-16, 17-11.
It wasn't unlucky 13 for Tiddington Cricket Clubs Dick Brownsill as he hit a bakers dozen 6-4-3 in their 3-0 defeat over Donnington Club. Leg scores being 23-14, 16-13, 26-14.

Cricketers Arms Littleworth, winners of Section 6 found the move up to Section 2 tough as they lost 3-0 at Cowley Workers Club. Sam Turner was the only player to hit double figures with a 11 dolls 4-4-3 as they lost all three legs 22-18, 28-16, 22-19. Andy Webb hit a dozen dolls for The Workers 4-4-4.

Tony Eeles, 5-4-3, Ray Winfield 6,3,3 & Monty Morgan 3-5-4 all hit a dozen dolls for Golden Ball 'B' as they just got the better of Cowley Con Club 2-1 in Section 5. It was the consistent throwing by Golden Ball that saw them through 24-16, 20-23, 21-12.

In Section 6,The Nelson 'A' playing in their highest section yet started of well with a 3-0 home win against Marston British Legion. They took maximum points 13-12, 18-15, 20-15 with Craig Greenough top scoring with 10 dolls 3-3-4.
Even though Red Lion Brill won all three legs at Team Monarch, the game was much closer than the result suggests. The Lion won the opening leg 18-16 and just won the next leg 19-18. They were then set 18 in the final leg and it was down to anchor man Martin Bailey to whip off the three dolls needed to win the leg by the odd doll. Robert Taylor was in top form with 13 dolls 4-6-3.

There were mixed fortunes for the Hambridge family as The Nelson 'B' won 3-0 at Chandos Arms in Section 9. Dad Raymond kept the stickers up busy by clanging off 13 dolls 3-4-6, while son Graham didn't disturb the stickers up at all by hitting three blobs!!
They won all three legs 11-10, 12-10, 15-10.

Only one doll separated Kings Arms Kidlington & John Radcliffe Club in Section 11 but it was the JR that sneaked a victory. Kings Arms won the opening leg 7-6 with the JR taking the second leg on three sticks after tying 7-7. JR then triumphed again in the third and deciding leg on three sticks after tying 9-9 this time.

All games that were not played on the opening night must be played within the next 21 days.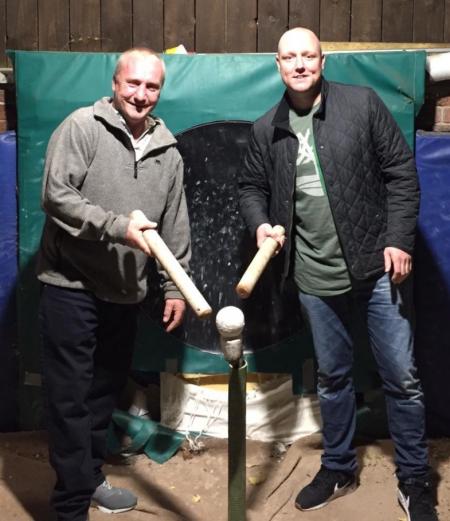 Back to reports page